Beta85X Whoop Quadcopter (HD Digital VTX)
Stock:

In Stock

Model:

Beta85X Whoop Quadcopter (HD Digital VTX)
BetaFpv
Getting tired of those clumsy Digital FPV drone? Trying to get a new Digital FPV flying experience? Embracing this brand-new ultralight 3S whoop drone - Beta85X HD Digital VTX!
It only weights 66.6g! Beta85X HD Digital VTX perfectly meets the optimal ratio between weight and power. With the special modified Nebula Nano Kit, the total weight of the drone is significantly reduced and flight experience improved a lot. Pilots can easily achieve almost all kinds of FPV freestyle tricks with HD footage. If you want to enjoy a brand-new flying experience with HD digital VTX whoop, this Beta85X HD digital VTX ultralight 3S drone will be your best choice.
Bullet Point
Beta85X HD digital VTX is a

brand-new u

ltralight 3S whoop drone. It only weighs 66.6g, ultralight but keeps the awesome performance of power.

To keep minimizing weight and optimal performance, we

specially modified

the Nebula

HD kit and achieved a 15g weight reduction. It

brings the Digital FPV more possibility to achieve different kinds of freestyle tricks. The naked Nebula still keeps a stable FPV picture and long transmission distance greatly gives pilots a high-quality flight experience.

Comes with a new HD digital VTX canopy, which is specially designed like an X-knight helmet shape. With an adjustable tilt angle of 25-45° degrees, it can meet various requirements of video shooting and flight experience.

Equipped with 1103 motors,

F4 AIO 12A FC, and

Gemfan 2020 4-blade props, Beta85X HD Digital VTX gets a stronger power. We recommend using a 450mAh 3S battery for the drone to get a new experience of flying digital FPV.
Specification
Modified Nebula Nano Kit
Equipped with a modified Nebula Nano HD Kit, it further loses the weight of the drone, which only weighs 14.2g, brings the Digital FPV more possibility to achieve different kinds of freestyle tricks. This kit also can support with DJI goggles. With DJI goggles, it can provide 720p/60fps digital high-definition picture and a transmission range up to 4km. Users can choose 25mW/200mW/500mW/700mW from DJI goggle settings.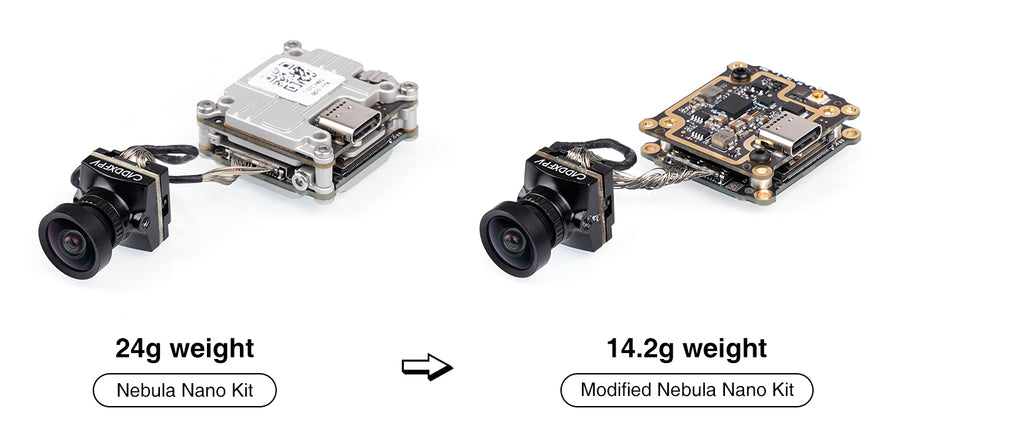 FC & ESC
F4 AIO 12A FC totally supports 3S power with a steady performance. This board is light only 5.07g and suitable for brushless whoop like 2S Pro2 Series/ X Series. Integrated with a Betaflight MATEKF411 processor FC, Betaflight OSD and 2-4S 12A ESC which can support 4S battery for the fast-flying experience.
Motor & Props
The Gemfan 2020 4-blade props are a new choice for the 85mm brushless whoop drone. It is lighter but durable enough, offers pilots a high-efficiency flight experience. Equipped with the 1103 8000KV Brushless Motor, Gemfan 2020 4-blade props even have a better performance. 1103 8000KV Brushless Motors are perfectly suitable for Beta85X HD Digital VTX, provide you with much more thrust.
The Beta85X (HD Digital VTX) drone also comes with "props out" by default. Why we need "Props out" direction?
Default Betaflight props direction, quadcopter dips, and "washes out" in hard corners. With reversed props or "props out", no more dipping even in the hardest cornering.
FAQ
Cli Dump of Beta85X HD Digital VTX ( Click here to find the details.)
Package
1 * Beta85X Whoop Quadcopter(HD Digital VTX)
1 * Gemfan 2020 4-blades Propellers(2CW+2CCW)

Batteries are not included in the package. You can get it here 3S 450mAh battery.